"Towns with slopes and hills – walk along" is a bi-lingual (Japanese/English) blog media that delivers familiar topics such as day-today life, work, seasons and plants with texts and photos. We share our day-to-day topics from life in Kanagawa prefecture and its surrounding areas with joys. Thank you for visiting and reading!
Published in May 2020
✉️ from.walkalong@gmail.com
---
Profile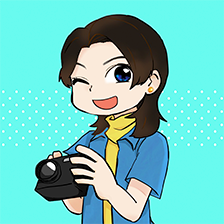 Akari Aoyamada (texts and photos) born in 1966, Blood type B, learning the basics of photography at a photo school. Full-time working for a company, post one content every weekend in the morning on Saturday.
---
"Live freely even though there are many things"
Work, family, socializing, money, hobby, future etc. etc. there are many things. But the life is only one time. I want to live freely.
But what is the freedom?
Leave the company and free myself from the time restraint? Maybe.
Escape from the complex human relationships and keep distance? Maybe.
But I want to live freely within the constraints. I'm just an ordinary person, I want to be somehow accepted in the social system, and I accept the system, too.
There are slops and hills in our life.
I want to live freely with many loose connections of people, and of community. Walk freely, being myself, being yourself. That's the meaning of the name of this website that I wanted to put into.
---
Spending my childhood in Kawasaki, then I was moved to Yokosuka with my family when I was in the second grade of elementary school. I entered to a high school in Zushi. In 20's I lived in Tokyo yearning for a city girl and I was jumped off to overseas in my 30's and 40's. Now I'm in my 50's living in Yokohama, working in Atsugi.
Kanagawa is a prefecture that has so many slopes and hills as "flat from the station" could be a strong appealing phrase if you look for a real estate information. Instead, there are so much nature like mountains, sea, and rivers near us in Kanagawa.
We deliver our day-to-day life in Kanagawa with joys and happiness, just like chatting with neighbors.
Thank you for visiting and reading!